Crown Princess Mathilde of Belgium.
She has three children with Crown Prince Philippe; Elisabeth, Gabriel and Emmanuel.
Crown Princess Máxima of Netherlands.
She has two daughters with Crown Prince Willem-Alexander; Catharina-Amalia and Alexia Juliana.
Crown Princess Mette-Marit of Norway.
She has two children with Crown Prince Haakon; Ingrid Alexandra and Sverre Magnus. She has the son Marius from a previous relationship.
Crown Princess Letizia of Spain.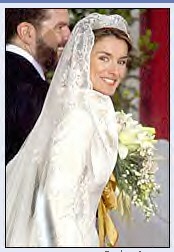 She has one daughter, Leonor, with Crown Prince Filipe.
Crown Princess Victoria of Sweden.
The 28-year-old crown princess has never married or had any children.